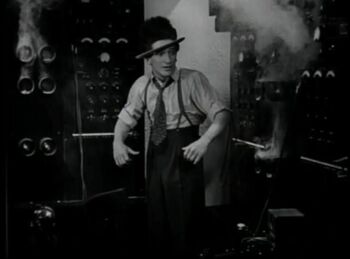 Bio
Charlie is the sound engineer for KHJ Radio Station in Greenpoint. His employer is Mr. Morton and they have a client named Mr. Barker. When Barker needs a new musical tune for an advertising campaign, several kiddie acts try to audition, but it is The International Silver String Submarine Band with their constant accidents of knocking over the microphone and sending feedback through Charlie's ears that try his nerves and eardrums. In the end, he becomes so frustrated that he ends up smashing his equipment. No word if he compares notes on the frazzled piano player from Beginner's Luck.
Charlie is played by Bert Gordon.
Shorts
---
Ad blocker interference detected!
Wikia is a free-to-use site that makes money from advertising. We have a modified experience for viewers using ad blockers

Wikia is not accessible if you've made further modifications. Remove the custom ad blocker rule(s) and the page will load as expected.