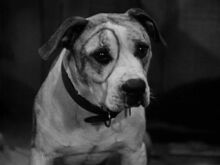 Length: One Reel
Producer: Hal Roach
Director: Unrevealed
Photography: Unrevealed
Editor: Unrevealed
Titles:
Writer: Unrevealed
Released: Unreleased
Studio: M-G-M

Main Cast
Supporting Cast
The Short
Plot: Butch kidnaps Pete the Pup and sells him to a lab testing a new flea exterminator. The Rascals sneak into to rescue their pooch.
Quotes:
Notes/Trivia:
"Calling All Curs" was a synopsis for an Our Gang short that was written on November 3, 1937. It is unknown if the proposed story went into scripting stages.

Sequence
---
Ad blocker interference detected!
Wikia is a free-to-use site that makes money from advertising. We have a modified experience for viewers using ad blockers

Wikia is not accessible if you've made further modifications. Remove the custom ad blocker rule(s) and the page will load as expected.