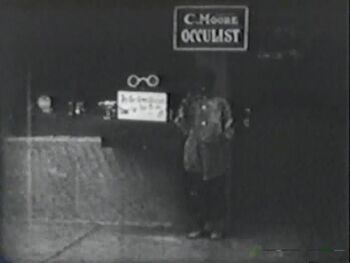 Bio
C. Moore is a local occulist (eye doctor) in Greenpoint. He's possibly where several Rascals like Jay R. Smith get their eyeglasses. His sign reads "Try Our Green Glasses - Good For The Blues." Ernie takes a pair of the huge tinted glasses to put on Dinah to encourage the mule to eat some hay by making it appear to be fresher green grass. The glasses stay on Dinah as part of her disguise through Ernie's tall tale to the Mystic J.J.J.'s.

There is no information on whether C. Moore is related to Dickie Moore.
Shorts
---
Ad blocker interference detected!
Wikia is a free-to-use site that makes money from advertising. We have a modified experience for viewers using ad blockers

Wikia is not accessible if you've made further modifications. Remove the custom ad blocker rule(s) and the page will load as expected.