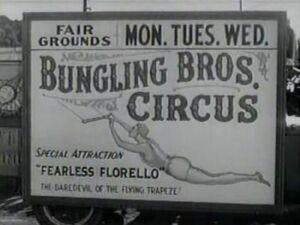 Bio
The Bungling Brothers Circus is a traveling circus that visits Greenpoint for three days in 1939. Upon seeing a passing van advertising the circus, Spanky, Alfalfa, and Buckwheat are inspired to put on their own Our Gang's Xtra Big Circus, to raise money to pay Porky's parents' rent. As the Bungling Brothers advertise the special attraction "Fearless Florello" on the flying trapeze, the gang's circus's "speshul feeture" is "Daredevil Alfalfa" as "The Man on the Flying Trapeeze."
Shorts
---
Ad blocker interference detected!
Wikia is a free-to-use site that makes money from advertising. We have a modified experience for viewers using ad blockers

Wikia is not accessible if you've made further modifications. Remove the custom ad blocker rule(s) and the page will load as expected.