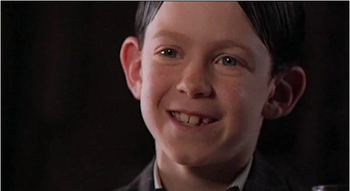 Biography
Character: Alfalfa Switzer
Birthday: February 4, 1985
Place of Birth: Fort Worth, Texas
Date of Death:
Place of Death:
First Short: The Little Rascals (feature film)
Last Short: The Little Rascals (feature film)
Number of Shorts: 1
History: Brandon "Bug" Hall is a resident Texan, much like George McFarland, Travis Tedford, Eugene Lee and Tommy Bond. Along five of his Rascal co-stars, he won a Young Artist Award for Best Performance by Youth Ensemble in a Motion Picture. He went on to star in several more features, notably "Tad," where he played the title character of Abraham Lincoln's son. He was also nominated for a YoungStar award (Best Performance By A Young Actor in a Made-For-TV Movie) for his role as Eddie Munster in "The Munster's Scary Little Christmas." As a young man, he went on to star in several movies and television shows, returning to have a cameo in The Little Rascals Save The Day. He has a young brother, Gemini Barnett, who starred in the short-lived series, "Second Noah."

List of Shorts
Other Projects
Tad (1995) - with Lance Henriksen
The Big Green {1996)
The Stupids (1996)
Honey, We Shrunk Ourselves (1997) - with Rick Moranis and Mila Kunis
Hercules (1997) - with James Woods
Safety Patrol (1998)
Kelly Kelly - TV Series (1998)
Mel (1998)
Providence - TV Series (1999) - Episode: "Guys And Dolls"
Skipped Parts (2000) - with Mischa Barton
Get A Clue (2002) - with Lindsay Lohan and Brenda Song
Arizona Summer (2003)
The King And Queen Of Moonlight Bay (2003)
Footsteps (2003)
CSI: Crime Scene Investigation - TV Series (2004) - Episode: "Viva Las Vegas"
Strong Medicine - TV Series (2004) - Episode: "A Dose Of Reality"
Charmed - TV Series (2004) - Episode: "Charmed Noir"
Cold Case - TV Series (2005) - Episode: "Blank Generation"
Mortuary (2005)
The O.C. - TV Series (2006) - Episode: "The Heavy Lifting" (uncredited)
Justice - TV Series (2006) - Episode: "Crucified"
CSI: Miami - TV Series (2006) - Episode: "High Octane"
The Day The Earth Stopped (2008)
Camouflage (2009)
American Pie Presents: The Book Of Love (2009)
Boarding School 3-D (2010)
---