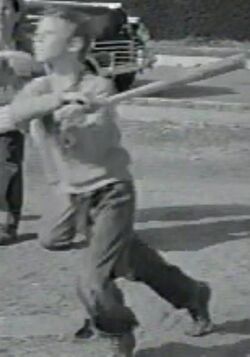 Bio
Bobby Anderson is a member of the All-4-One Club with Froggy Laughlin and Mickey Gubitosi, getting involved with the election for the new club president. He also plays Rascals Baseball with the gang, as a member of the opposing Gas Housers. His pop fly gets caught by Rover.

Bobby Anderson was played by child actor William Anderson.

Shorts
---
Ad blocker interference detected!
Wikia is a free-to-use site that makes money from advertising. We have a modified experience for viewers using ad blockers

Wikia is not accessible if you've made further modifications. Remove the custom ad blocker rule(s) and the page will load as expected.