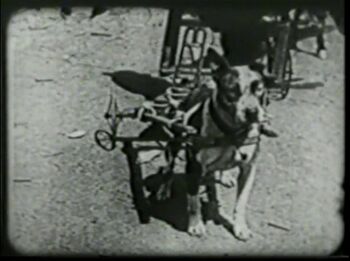 Biography
Bill is Ernie and Farina's dog. He appears dressed up as a police dog named "Officer T. Towser Barkus" for the Goat Alley Fire Department for which he pulls Roosie's cart. He also causes damage to Mother Malone's Boarding School when the boys get dragged off as orphans. He's pretty loyal to the boys, appearing in his police uniform again at their baseball games and their Derby Day kiddie races.
Bill is possibly litter mates with T-bone and Joe; they were all played by the same dog. Maltin and Bann confuse him with Pal.
Shorts
---
Ad blocker interference detected!
Wikia is a free-to-use site that makes money from advertising. We have a modified experience for viewers using ad blockers

Wikia is not accessible if you've made further modifications. Remove the custom ad blocker rule(s) and the page will load as expected.