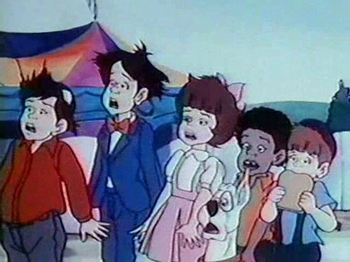 Production Notes
Length: Eleven Minutes
Producer: Oscar Dufau, William Hanna, and Joseph Barbera
Director: Unrevealed
Writer: Unrevealed
Released: December 18, 1982
Studio: Hanna-Barbera Productions and King World Productions

Main Cast
The Short
Plot: Denied entry into a real circus, the Rascals decide to put on their own circus. Butch and The Woim take advantage of their free admission.

Quotes:
Notes/Trivia:
According to a seller on eBay who was selling a model sheet of a truck holding a giraffe used in the short, the circus was run by Dingling Bros., a spoof of Ringling Bros./Barnum & Bailey Circus.
Originally aired with Class Act and He Who Runs Away.
Sequence
---
Ad blocker interference detected!
Wikia is a free-to-use site that makes money from advertising. We have a modified experience for viewers using ad blockers

Wikia is not accessible if you've made further modifications. Remove the custom ad blocker rule(s) and the page will load as expected.