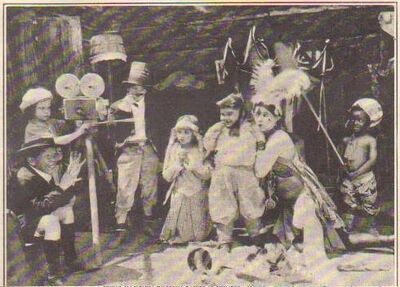 Production Notes
Length: Two Reel
Producer: Hal Roach
Director: Robert F. McGowan
Photography: Art Lloyd
Editor: Richard Currier
Titles: H. M. Walker
Writer: Hal Roach
Released: November 1, 1925
Studio: Pathe Exchange

Main Cast
Supporting Cast
The Short
Plot: The Rascals have put together their own full-fledged motion picture enterprise, but the only thing they are missing is a camera. When Billy Lord realizes this, he skips his violin lesson to share his motion-picture camera.  During the filming of their movie, Jackie and Turkey-egg play pranks on the gang to ruin their movie because they were left out of it. The gang however creates their film with elaborate (maybe too elaborate) sets and props, but just as they are premiering it, Jackie and Turkey-egg bring a police officer to clear out the barn.
Quotes:
Notes/Trivia:
Sequence
---
Ad blocker interference detected!
Wikia is a free-to-use site that makes money from advertising. We have a modified experience for viewers using ad blockers

Wikia is not accessible if you've made further modifications. Remove the custom ad blocker rule(s) and the page will load as expected.