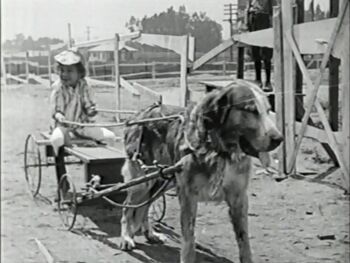 Biography
Barney is Jackie Condon's enormous dog. In One Terrible Day, Barney gets to go on Mrs. Pennington Van Rensselaer's outing when he is sneaked into the back of her car, and he pulls Jackie on a small chariot in the race in Derby Day. In both films, Jackie gets dragged by Barney for a considerable distance.
Barney, or perhaps litter-mates who look identical, have small parts in several other early silents.
Shorts
---
Ad blocker interference detected!
Wikia is a free-to-use site that makes money from advertising. We have a modified experience for viewers using ad blockers

Wikia is not accessible if you've made further modifications. Remove the custom ad blocker rule(s) and the page will load as expected.