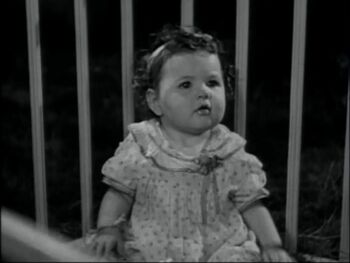 Bio
Patsy Mae or "Baby Patsy" is the baby sister of Spanky and Porky, and possibly of Breezy Brisbane and Dickie Moore as well. Spanky gets stuck babysitting her and trying to get her to sleep on one occasion when he wants to play football. By time he wants to go golfing at the Greenpoint Golf Course, he wises up and drags her along. Her popping of balloons disturbs the other golfers. When Jiggs runs afoul on the golf course, Patsy gets to slide down a hill on a broken peice of fence with the other Rascals. Patsy also ends up going to school with the gang. Alfalfa Switzer also dreams her into his Club Spanky dream as a hat check girl. Not much more is known about her further adventures with the gang.

Patsy Mae was played by Patsy Mae Dittemore.

Shorts
---
Ad blocker interference detected!
Wikia is a free-to-use site that makes money from advertising. We have a modified experience for viewers using ad blockers

Wikia is not accessible if you've made further modifications. Remove the custom ad blocker rule(s) and the page will load as expected.