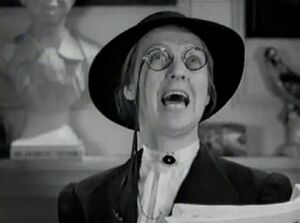 Bio
Penelope is Alfalfa Switzer's maternal aunt from San Sebastian. She's not particularly welcomed by Alfalfa's father. She's a sculptress and later a novelist. Her fiction based on her nephew convinces Alfalfa and the gang that she's planning a murder; the confusion causes a bit of an incident. She is probably Cousin Wilbur's mother, but that's unconfirmed.
Aunt Penelope was played by Marie Blake, later known as Blossom Rock of "The Addams Family."

Shorts
---
Ad blocker interference detected!
Wikia is a free-to-use site that makes money from advertising. We have a modified experience for viewers using ad blockers

Wikia is not accessible if you've made further modifications. Remove the custom ad blocker rule(s) and the page will load as expected.