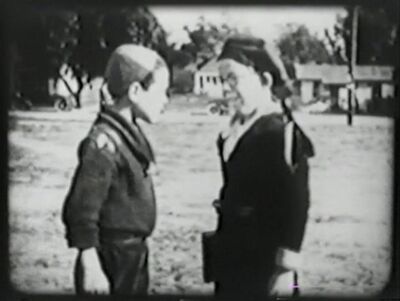 Production Notes
Length: Two Reel
Producer: Hal Roach
Director: Robert F. McGowan
Photography:
Editor:
Titles: H. M. Walker
Writer: Hal Roach
Released: May 31, 1925
Studio: Pathe Exchange

Main Cast
Supporting Cast
The Short
Plot: Mickey's mother is trying to turn him into a gentleman by dressing him up and having him take dancing lessons. Meanwhile, the gang is outside the house playing with a toy airplane as he is stuck inside awaiting his dance teacher. The only one who seems to understand his thoughts is Grandma who knows he has feelings for Mary and encourages him, even going as far as to cover for him as he sneaks out of the house to meet her. Johnnie also has eyes for Mary, but as he's picking on Joe, Mickey comes round to knock him down to size. Mickey gets the worst of it until Grandma rallies him on. Now, Johnnie is getting the worst of it. His father comes to his rescue to help in beating up Mickey just as Grandma gets into the fight, and she's more than a match for the both of them. Mom watches the entire debacle unfold as Mickey and Grandma triumph; in the end, she decides that Mickey should get to be more of a real boy.
Quotes:
Notes/Trivia:
Sequence
---
Ad blocker interference detected!
Wikia is a free-to-use site that makes money from advertising. We have a modified experience for viewers using ad blockers

Wikia is not accessible if you've made further modifications. Remove the custom ad blocker rule(s) and the page will load as expected.