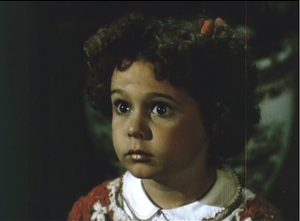 Profile
Name: Ardda Benson
Nickname:
Played By: Ardda Lynwood
Born:
Relatives: Curley Benson (brother)
First Short: Curley
Last Short: Who Killed Doc Robbin

Character
Bio: Ardda is the younger sister of Curley Benson. In Curley, it is revealed that she is too young to attend to Lakeview School with Curley and his friends. But she does assist in his plan to get rid of Miss Johnson, the new schoolteacher. She pretends to have the measles (using her mother's red lipstick to put spots on her face), and claims that Curley and his friends are also sick. But in the process, she spills the beans about Curley's scheme. Ardda later tags along with her older brother as he and his friends to try to solve the alleged murder of Doctor Robbin in Who Killed Doc Robbin.

Quotes:
Trivia
---
Ad blocker interference detected!
Wikia is a free-to-use site that makes money from advertising. We have a modified experience for viewers using ad blockers

Wikia is not accessible if you've made further modifications. Remove the custom ad blocker rule(s) and the page will load as expected.