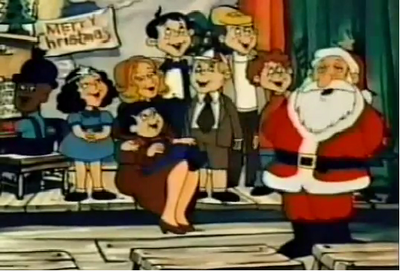 Production Notes
Length: 30 minutes
Producer: Robert A. King, Romeo Muller, Robert L. Rosen, Fred Wolf
Director: Charles Swenson, Fred Wolf
Editor: Rich Harrison
Writer: Romeo Muller
Released: December 3, 1979
Studio: King World Productions/Muller-Rosen Productions/Murakami Wolf Swenson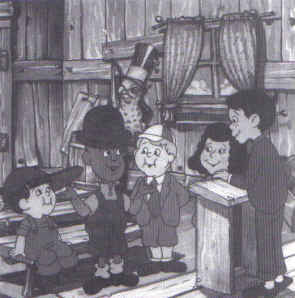 Main Cast
Credited Order:
Supporting Cast
Jack Somack - Santa
Darla Hood Granson - Mom
Stymie Beard - The Butcher (Mr. Klugger)
Cliff Norton - Angry Man
Frank Nelson - Sales Clerk
Melville A. Levin - Delivery Man
Hal Smith - Uncle Hominy (Alfalfa's Uncle)
Naomi Lewis - Sales Lady
Ike Eisenmann - Bully
The Short
Plot: Spanky and Porky's mother is alone and working hard to take care of her kid. As the country is in the midst of the Depression (or "Impression" as Spanky calls it), money is tight with very little left over to buy anything nice. When the boys overhear Mom talking on the phone about a Blue Comet, they think she is ordering for them the Blue Comet train set for the holidays which would make their Christmas the best one ever. However, Mom wasn't talkng about the train, but rather a vacum cleaner. Realizing that she confused her sons, she exchanges a coat she had ordered for the train. When she gets sick and the boys realize the truth, they enlist the help of the gang to raise the money to get the coat back. Meanwhile, two neighborhood bullies steal the train set so now there are no gifts for the boys or their mom. It's up to a rather grouchy Santa Clause to spread cheer to the family.
Quotes:
"Porky, look! It's gone!" - Spanky

"How can I look if it's gone?" - Porky

"Thank you, Mister Conductor." - Alfalfa

"Conductor? I don't see any trolley cars." - Stymie


Notes/Trivia:
Stymie replaces Buckwheat in the gang while the real Stymie voices the neighborhood butcher.
First aired on NBC on December 3, 1979.

The special most recently aired on ABC Family in December 2009.

Darla Hood's last role; she died nearly six months before the special premiered.

Despite the fact that this special aired over thirty years after the last short, this could be considered the last "unofficial" Our Gang film in the series since it stars two former Our Gang kids Matthew Beard and Darla Jean Hood in guest voices.

---
Ad blocker interference detected!
Wikia is a free-to-use site that makes money from advertising. We have a modified experience for viewers using ad blockers

Wikia is not accessible if you've made further modifications. Remove the custom ad blocker rule(s) and the page will load as expected.