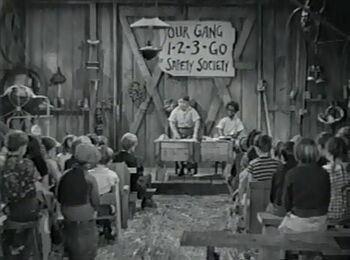 Bio
The 1-2-3-Go Safety Society is a club founded by Spanky McFarland that teaches and encourages other kids to be safe and take precautions when crossing the street. Spanky forms the club after Mickey Gubitosi is hit by a car after going after a baseball. Spanky presides over the club meeting, Buckwheat takes notes as the club secretary, and Froggy naps because he drank a sedative meant for Mickey in the hospital. The group is endorsed by the local Board Of Education in order to get adults interested. Spanky and the rest of the gang get a special citation from Mayor John Dilson for the idea.

Roll Call: (known) Buckwheat Thomas, Froggy Laughlin, Jimmy Gubitosi, Mickey Gubitosi, Spanky McFarland.
Shorts
---
Ad blocker interference detected!
Wikia is a free-to-use site that makes money from advertising. We have a modified experience for viewers using ad blockers

Wikia is not accessible if you've made further modifications. Remove the custom ad blocker rule(s) and the page will load as expected.